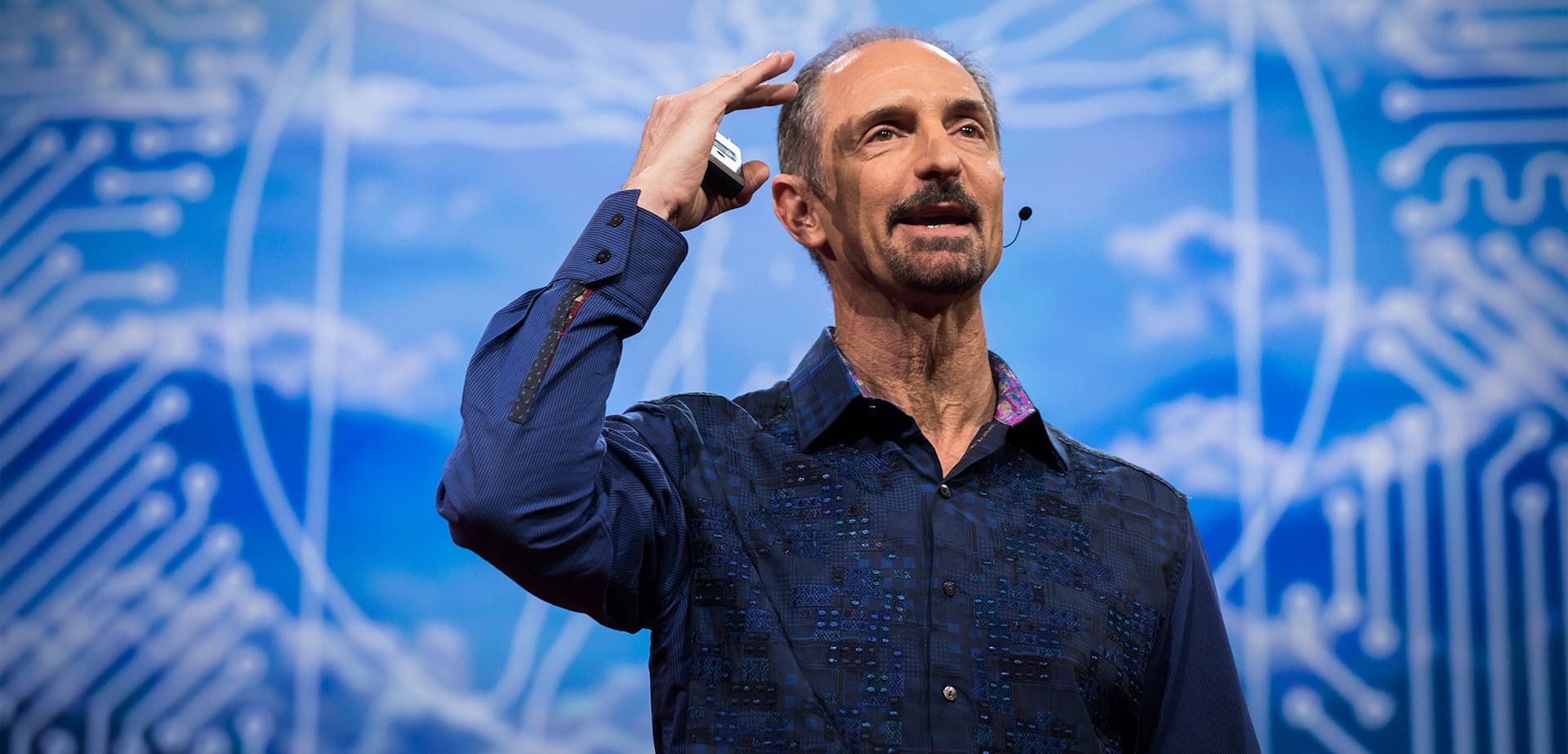 Live + Virtual Keynotes
As a speaker, Tom has a unique ability to break down complex ideas into stories and concepts that everyone can understand. A true polymath, he leverages his diverse experience to spot trends and make connections across artificial intelligence, cognitive science, and design. His primary focus is Humanistic AI and the power of collective intelligence to effect positive changes in our culture and the planet that sustains us. Audiences leave Tom's talks with their minds expanded, their assumptions challenged, and an optimistic view of where our minds and our technology can take us.
Topics

Superhuman Potential: The Promise of Humanistic AI
The landscape of AI today is as exciting as it is complex, fraught with unknowns and exponential potential. What is the proper role of AI in relation to humanity? How do we build planetary scale AI-driven systems that deliver outcomes we want while avoiding unintended consequences? In this thought-provoking talk, Tom leverages his decades in AI development and lays out a clear ethical choice. The key lies in aligning the objective of the machine with human values: programming AI to augment and collaborate with us for the betterment of humanity. Taking a philosophical and prescriptive approach, Tom describes real-world applications from his front-row seat as advisor to over a dozen companies at the forefront of humanistic AI applications. Offering both a rallying cry and a roadmap for the future, Tom shows the way to harness and direct this powerful, pervasive technology for good.

How to Build the Future: Practical Principles for Startup Founders
In 2010 Siri was purchased by Apple and remains central to the user experience of all Apple products. Today, Siri is used more than 25 billion times a month in over 30 countries around the world. But in late 2007 when Tom and his co-founders launched their fledgling startup, none of this was guaranteed. Why did top VC firms first invest in the company, even as the sky was falling in financial markets? Tom outlines four key factors that led to Siri's success — factors that are essential to any successful startup. He shares insider details of Siri's trajectory, while providing real-world examples from other companies, showing how attendees can put these principles into practice with their own ventures.

AI, Big Data, and Humanity: Risks and Opportunities
Artificial Intelligence, operating on big data, opens a world of possibilities to improve how we work, play, learn, and take care of ourselves. This talk offers a cautionary tale of AI and data leading to unforeseen negative outcomes when harnessed by some of the largest companies in the world, and how a new crop of startups are using AI in a new way to foster human health and well being. Examples of applications include health care, assistive care, and mental health – and recent work using AI to help with the COVID-19 pandemic. Drawing from his direct experience building planetary-scale AI and advising a new generation of Humanistic AI companies, Tom offers insights to entrepreneurs, investors, and policy makers navigating the high-stakes decisions of AI today.

Semantic Computing: It's Actually Here. What Will You Do With It?
Semantic computing has now reached the technical threshold where machines can read and understand the facts in almost everything you read, and everything else you might read. And today audio and video can be transcribed routinely, so machines can also read and remember the content of our conversations and sources of entertainment. What applications does this new AI competence unlock? What happens when we augment our individual and collective memories with AI? Tom reveals the landscape of new possibilities and offers a peek over the horizon to what might be accomplished — and how things might go off course — with this exciting new capability.

The Generation That Will Save the Ocean
Earth's ocean is in immediate peril from climate change, pollution, and unsustainable fishing. We have one generation left to save it. Who will be the people to change the attitudes and behavior of billions around the world? They are the next generation of scientists, engineers, artists, and activists who were born digital and raised social. What will they need to do to turn the tide? In this rousing talk, Tom applies his inventor's mind for innovation with his entrepreneur's penchant for leadership, and lays out a roadmap for how we can move our relationship to the ocean from exploitation by the few to stewardship by us all.

Colorful Lives: Photographic Stories from the Ocean
Experience the colorful lives of underwater animals through the lens of art photography. Learn about the surprising sex lives of famous animated fish, the bizarre mating habits of punk-rock nudibranchs, and the majestic grace of the largest fish in the ocean. See the adorable playfulness of sea lions up close, and then consider the message they have for us about our relationship to the ocean. Tom is in love with life in the ocean, and is privileged to travel around the world to dive in places where marine life still thrives. With his underwater photography and video, he hopes to bring back and share what he sees to create empathy and connection with the ocean.
Booking
To book Tom as a speaker for your conference or event, reach out to the fine
folks at CAA and they'll get back to you right away.
Mark Zusman
|

Editor and Publisher, Willamette Week, Founder, TechfestNW
"Tom Gruber is the rare practitioner who can lucidly explain how things work — and what they mean for us. His understanding of the social impacts of digital innovation is built from the ground up and he brings to the stage an unusual insight into A.I. and a strong sense of how designers and engineers can change digital systems to better confront the ethical challenges that this new age poses. A passionate and profound observer of digital life, Tom is in the first rank of public speakers on emerging technologies and how humans can manage them for maximum benefit."
Live Keynotes
Tom enjoys public speaking about topics that matter today, such as the impact of AI on society, what makes a successful startup, and how to save the ocean. In talks to conferences and private audiences, he offers insights from his experience in technology research, design, startups, and travel. He loves interactive Q&A, and can tailor presentations to the interests of any audience.
As an innovator, researcher, and serial startup entrepreneur, Tom gives audiences a front-row seat to what it means to envision the future, then set about building it. If you use Siri on your phone, learn from a threaded discussion on the Web, collaborate with colleagues in a virtual workspace, or use a computer to help you speak, it is likely that Tom helped invent it, influenced its development, or was designing an early version of it before it entered the mainstream. Many of the innovations Tom created or influenced are taken for granted today, woven into the pattern of our digitally mediated lives.
Tom has a knack for helping audiences make sense of the complex, and apply it to their own lives. He keeps his finger on the pulse of innovation as a sought-after Impact Advisor to over a dozen companies on the cutting edge of Humanistic AI development. As a result, all Tom's talks have an immediacy and real-world connection to what's happening now. Experiencing Tom's infectious vision of the future is an antidote to pessimism.
Virtual Keynotes
As an accomplished photographer and videographer, Tom is able to create dynamic and informative virtual presentations, bringing his expertise and unique perspective into the world on demand. Both pre-recorded and live events feature Tom beaming in from his state-of-the-art home studio, with professional-grade audiovisual equipment and green-screen backdrops. Crisp, clear technology means Tom and the audience can focus on the conversations that matter: The relationship of AI to humanity, what makes a successful startup, and how to save our oceans.